"Look for the helpers. You will always find people who are helping."
– Fred Rogers
We usually hear that quote and think of police, firefighters, EMTs and more. But in the midst of COVID-19, we can all be helpers.
The situation we find ourselves in right now is unlike anything anyone has seen before. And it's taking a toll on our community.
Many of us have been able to stock our pantry and shelter in place. Many of us haven't.
Many of us have switched to remote working from home. Many of us have lost our jobs.
Many of us have computers, tablets and internet access to help our kids with distance learning. Many of us don't.
Many of us have seniors in our lives who we are caring for remotely, making sure they have the food and resources they need to shelter in place. Many of us know seniors who don't have that support network.
This virus knows no bounds, but it's got nothing on us. When we're facing a crisis, our love for community always wins. We can all be helpers by sharing what we can, doing what we can, and helping where we can. Please consider supporting these efforts and helping every San Antonian stand strong against COVID-19.
To support families and nonprofits across San Antonio, you can join United Way of San Antonio and Bexar County and the San Antonio Area Foundation's effort and support the COVID-19 Community Response Fund at helpsatx.org.
The San Antonio Food Bank has launched a coronavirus preparedness campaign to provide a 14-day food supply and preparedness kits to 300,000 households. For more information and support the effort, click here.
But the need goes beyond that. The food bank is working to meet a daily demand for more than $500,000 worth of food EACH DAY. That's an amount that has more than doubled since the pandemic began. And they're having the same trouble that we're having in finding food. You see, they typically are able to get grocery surplus to help meet the needs of our community, things like day-old bread. But guess what? All of that is being snapped up from grocery shelves. There's no surplus to be had. So their need goes beyond preparedness kits:  they've fed more than 120,000 people this past week and the number continues to grow. Every dollar donated equals seven meals, so no donation is too small. https://safoodbank.org/donate/
If you can't give money, you can give your time:  the food bank is practicing safe social distancing as it packs its boxes and it needs more hands to help. Learn how you can donate your time.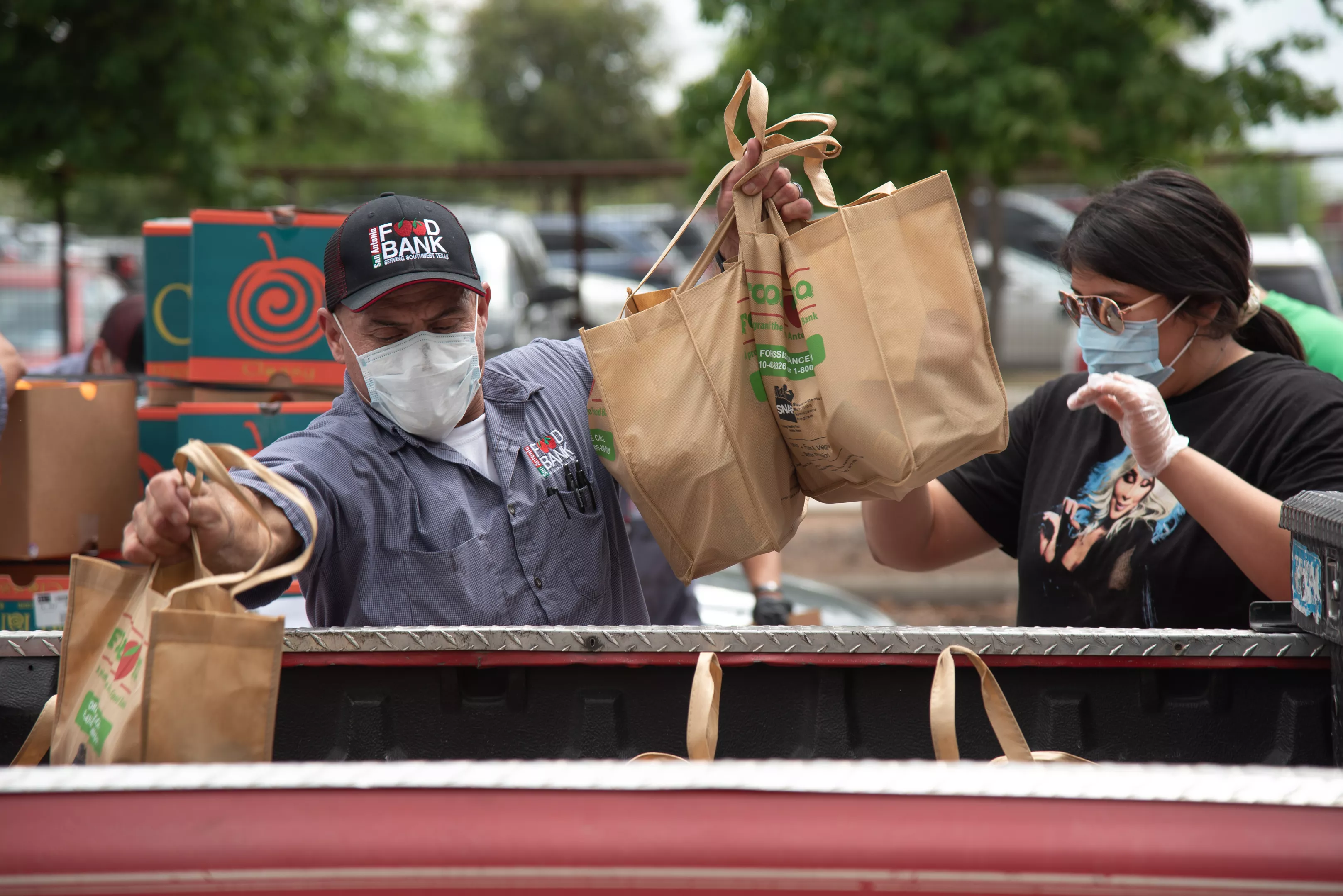 Senior citizens are at high risk for contracting this virus and their safest option is to shelter in place. Meals on Wheels San Antonio needs volunteers and donations to reach them and others: mowsatx.org/coronavirus.
Meals on Wheels San Antonio is an essential service to 5,000 homebound senior clients they serve every year. You can change a life with a $7 donation to provide Emergency Food Supply Boxes for Meals on Wheels' elderly clients, who are considered high risk for getting the coronavirus. Seven dollars can provide a client an Emergency Food Supply Box of four shelf-stable meals. To donate to these shelf stable boxes visit www.mowstx.org. You can also donate via Venmo or Cash App, the user name for both platforms is @mowsatx.
Did you know that Meals on Wheels also helps seniors feed their pets? Those furry friends are a lifeline of friendship for seniors. In this time of sheltering in place, that fur love is more important than ever. You can support their Animeals program through donation or through their Amazon Wish List (link on the Animeals page).
Another program working to feed and support those who are most vulnerable in our community is SA Hope Center, working with a variety of other nonprofits, churches and programs to provide much-needed services at a time when so many need assistance. Essential services like SA Hope Center work year-round to fill the gaps in our community, providing food and clothing assistance, job training, health services and counseling. Along with its regular efforts, SA Hope Center is operating a drive-thru food assistance program to help feed those in need. Your donation will help their efforts reach more San Antonians who need help to get through this crisis.
Our community blood supply is at risk due to widespread cancellations of blood drives. The South Texas Blood & Tissue Center (STBTC) desperately needs donations. Donors can schedule individual appointments, allowing for social distancing, at https://southtexasblood.org/give-now.
STBTC needs to collect an adequate blood supply for more than 100 hospitals in 48 South Texas counties. They depend on volunteer blood donors to make this happen and we all depend on that blood supply when we're in need. Blood is perishable and there is no substitute, but the great news is we can all lend a hand by making an appointment and donating today.
Many of the people who make this city such a great place to live need our help right now. San Antonio's restaurant and hospitality industry has been hit hard as we all stay home and shelter in place. In addition to buying gift cards and doing take-out to support local restaurants, keep San Antonio's flavor alive by supporting the Culinaria Emergency Relief Fund, where you can even donate through Paypal. And don't forget Restaurant Week To Go, an easy way to find local restaurants where you can do take-out/pick up. Our friends at Yelp San Antonio created a map to make it even easier to find a spot near you.
Helping out also means feeding our minds. The children of San Antonio are now distance learning. Yet many don't have the equipment or online access they need to learn. The term "digital divide" is real and will keep many students from getting the education they need while schools are closed. You can help the San Antonio Independent School District bridge that divide by donating here. Have an old laptop or tablet you can share? Reach out to your school to see about connecting with a family who can use it.
Our furry friends are also in need. The Animal Defense League of Texas, the oldest no-kill shelter in San Antonio, needs our help. Donations can be made online or by Venmo. The ADL $10 Challenge is another fun and easy way our community can participate by visiting adltexas.org and clicking on the $10 challenge button. If every visitor to ADL's website donated $10, the community participation would generate the funding necessary to sustain its programs through the remainder of the year.
Support your favorite charity. No matter where you give now, it will help. No matter where you share your time, it will help. No matter how you step up, it will help.
We're all in this together. And together, we can get through. Take care of yourself. Take care of your family. And help take care of our community.